Old Naval Hospital - Property History
GSA Form 38 - Transfer of Old Naval Hospital to D.C. Government (1962)
General Services Administration Form 38 transferring the Old Naval Hospital to D.C. Government. As noted in box J. 1. a transfer plat was attached.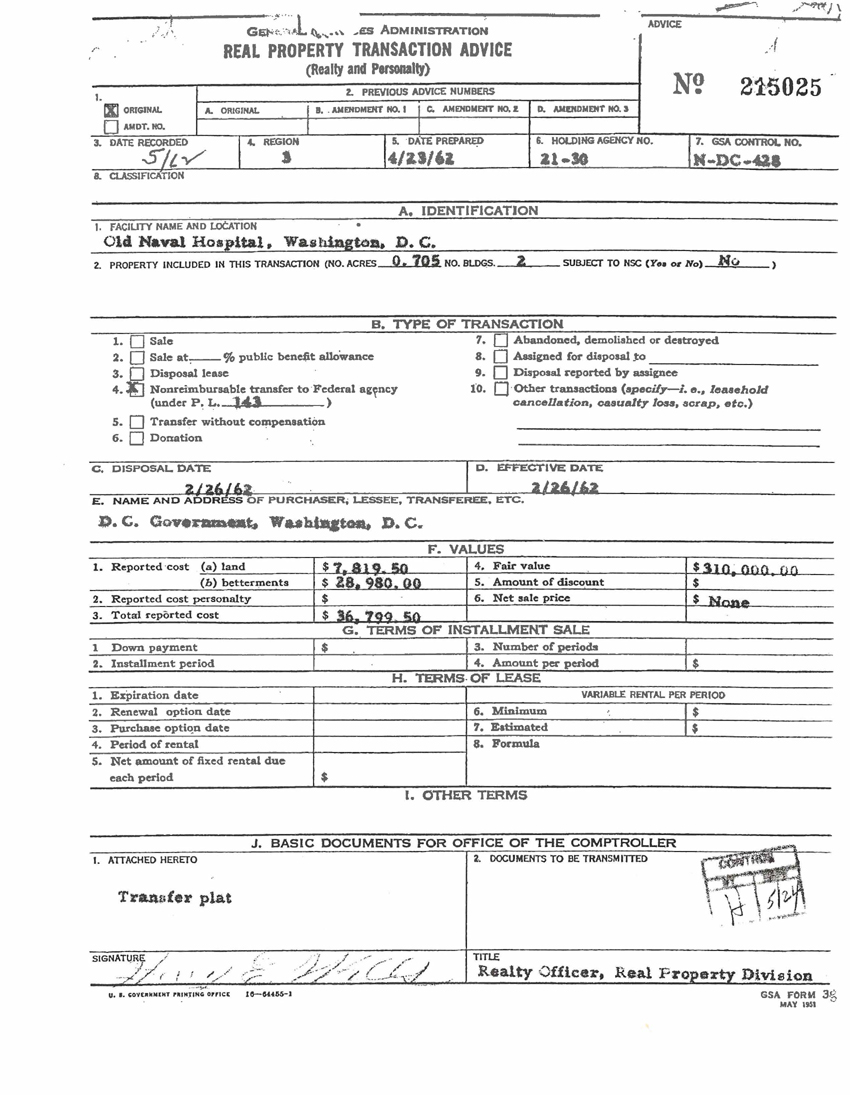 GENERAL SERVICES ADMINISTRATION
REAL PROPERTY TRANSACTION ADVICE
(Realty and Personalty)
1. X ORIGINAL
AMDT. NO.
2. PREVIOUS ADVICE NUMBERS
A. ORIGINAL
B. AMENDMENT NO. 1
C. AMENDMENT NO. 2
D. AMENDMENT NO. 3
ADVICE No. 215025
3. DATE RECORDED 5/62
4. REGION 3
5. DATE PREPARED 4/23/62
6. HOLDING AGENCY NO. 21-30
7. GSA CONTROL NO. N-DC-428
8. CLASSIFICATION
A. IDENTIFICATION
1. FACILITY NAME AND LOCATION Old Naval Hospital, Washington, D.C.
2. PROPERTY INCLUDED IN THIS TRANSACTION (NO. ACRES 0.705 NO. BLDGS. 2 SUBJECT OT NSC (Yes or No) No)
B. TYPE OF TRANSACTION
1. Sale
2. Sale at % public benefit allowance
3. Disposal lease
4. X Nonreimbursable transfer to Federal agency (under P.L. 143)
5. Transfer without compensation
6. Donation
7. Abandoned, demolished or destroyed
8. Assigned for disposal to
9. Disposal reported by assignee
10. Other transaction (specify – i.e., leasehold, cancellation, casualty loss, scrap, etc.)
C. DISPOSAL DATE 2/26/62
D. EFFECTIVE DATE 2/26/62
E. NAME AND ADDRESS OF PURCHASE, LESSEE, TRANSFEREE, ETC. D. C. Government, Washington, D. C.
F. VALUES
1. Reported cost
(a) land $7,819.50
(b) betterments $28,980.00
2. Reported cost personalty
3. Total reported cost $36,799.50
4. Fair value $310,000.00
5. Amount of discount
6. Net sale price $ None
G. TERMS OF INSTALLMENT SALE
1. Down payment
2. Installment period
3. Number of periods
4. Amount per period
H. TERMS OF LEASE
1. Expiration date
2. Renewal option date
3. Purchase option date
4. Period of rental
5. Net amount of fixed rental due each period
VARIABLE RENTAL PER PERIOD
6. Minimum
7. Estimated
8. Formula
I. OTHER TERMS
J. BASIC DOCUMENTS FOR OFFICE OF THE COMPTROLLER
I. ATTACHED HERETO Transfer plat
2. DOCUMENTS TO BE TRANSMITTED
SIGNATURE
Harry E. Wills (?)
TITLE Realty Officer, Real Property Division
CONTROL
H 5/24
GSA FORM 38
MAY 1951
This site is sponsored by the Friends of the Old Naval Hospital
Last updated November 8, 2008